Hello Recovery Friends, Seekers, and New Visitors,
"I'm "Honored and Blessed" to have my "Guest Author, and good friend of mine,  and of course he is a fantastic writer/author TOO! *Please meet, "Ian Kane"*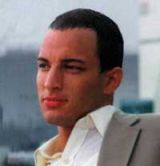 It's been over a year now that Ian and I met. But to be honest, I visit SO many Social Media sights, I'm not sure which one it was that we first got acquainted on. I was still living in So. Oregon at the time, but what caught my eye about Ian, was that where he grew up in Northern California, was not to far off from where I lived.
He has been a number one book, and recovery supporter of mine, shortly before my own book, Addicted To Dimes released.
He has always been Kind & Generous with networking with me and many other writers. It's what makes him so *Special*!

*Here is a little bit about Ian Kane the author*…..
"Ian Kane is an author, freelance writer, and filmmaker. After high school, he joined the military and received numerous awards and commendations for his exceptional service. After receiving his Honorable Discharge, he worked as a writer for online and print publications, as a journalist and as a health & fitness expert, culminating in owning his own successful business. Ian has also worked as a military consultant for film productions."
"Traveling to many places in the world, in both his civilian and military lives, has given him unique insights, and he infuses this international perspective into both his writing and filmmaking."
"A storyteller at heart, Ian has recently made the transition over to doing what he loves most: Creating stories of people whom others can identify with, and hopefully be entertained by along the way as well. He recently signed with Assent Publishing, and will be releasing his debut novel—Fading Empires Volume I: Rising Storm—in fall 2013. This will be the first of twelve epic novels."
Ian recently moved back to his native state of California after spending several years living in Manhattan, New York.
…..
*Ian has Just released his first new book in a series called: Fading Empires, "Rising Storm" ~~ And I know many of my readers have a long holiday weekend, so why not dig into a "Thrilling and Apocalyptic Adventure*!!
 Here is a little preview of how his first book in "The Fading Empires" series starts:……
"The year is 2047 and Earth's major remaining governments are now completely powerless in the face of the recently emerged voracious "megacorps" that now have near virtual reign over every aspect of life. They are headed by a ruthless power elite class whose dominance runs unabated due to their control over various police and military forces that have been co-opted by them. All opposition is crushed in their ever-expanding shadow. A virtual intelligence super-structure has been set up by these organizations to monitor all, and certain sectors of the population function in the maintenance of the various zones within the closed system.
….
However, as always, pockets of resistance develop as Leonard Kilbane, former black ops super soldier—turned rogue resistance leader, assembles a diverse group of mercenaries who are learning to put their differences aside in order to stand up to the ultra-suppressive, all-powerful corporate state. This team has barely begun to take action when the many tentacled organizations strike back with only omniscient technological power projection. Sitting atop his lofty perch, shrewd businessman and banker extraordinaire Arlington Grubb, head of the uber-powered monolithic financial juggernaut Leeds-Cantwell is destroying friend and foe alike in his never-ending greed and unquenchable thirst for supremacy. Grubb is in turn watched over by a shadowy entity known only as Helix. From the glittering palaces of the depraved power-mad elites, to crumbling urban wastelands and desiccated abandoned outer areas, this twelve novel genre-breaking opus has enough characters, action, and plot twists to fascinate everyone in this journey into a not so distant future."
…
Sounds pretty exciting!!
Now, here are what readers are saying so far! Just a few
5 Star Reviews!……
1) This review is from: Rising Storm (Fading Empires) (Kindle Edition)"Fading Empires Volume 1 is a heart-pounding, gut-wrenching, dizzying ride of pure adrenalin that will leave you breathless and begging for more. I want to know why in the hell a Producer hasn't begged to film this spectacular story. Ian Kane is unrelenting and brutal, and has established himself among the mavens of action-packed fiction. Fading Empires Volume 1 has raised the bar to the heavens, and the literary world has no choice but to recognize it as an instant classic. I recommend this blockbuster wholeheartedly"!!  By James Wymore

….
2) This review is from: Rising Storm (Fading Empires) (Kindle Edition) "Ian Kane's military background blends seamlessly with his Hollywood experience in this fast paced, hard-hitting book. The beginning of an amazing series, this book is a hipster– presenting an "under the dome" story before the concept was popularized on prime time." By Amazon Customer 
….
3) This review is from: Rising Storm (Fading Empires) (Kindle Edition) "Fading Empires is an amazing foray into a dystopian future where we are controlled by gigantic mega-corporations. The author skillfully weaves a fascinating and believable future that will leave you wanting more. The characters and settings are so descriptive and believable and the story-line will have you on the edge of your seat. If you enjoy futuristic adventures, sci-fi, non-stop action, and a little romance, you will definitely be hooked by Fading Empires"  By K. Hamm
….
*Now you know this is a Great Read! Here are just a few places you can find "Ian Kane"…….
Where to find Ian Kane online
I really enjoy Ian's Facebook Group, Fading Empires: http://www.facebook.com/groups/134291200113934
He gives updates on what's happening in his SiFi world, and he
enjoys interacting with all the members!
So if your on Facebook, come JOIN THE FUN!
Here is a little goings on from Ian!
There is nothing quite like holding your own published novel in your hands for the first time. I'm already planning my speaking engagements and book signings so everything is moving along as planned.
I'm a little biased here but these are very solid and handsome books clocking in at 298 pages and jam-packed with thrills, chills, and a completely unique storyline that will make you take a second look at what is happening around us, as well as entertain you. We've just published this month and are already garnering a lot of positive feedback from reviewers. Here is one of the latest ones from a new fan that has just jumped onto the rollercoaster:
"5.0 out of 5 stars Beyond Orwell's '1984′ and Just As Interesting! November 23, 2013
Format:Kindle Edition
It is, too! For one thing, this is extremely timely and I loved it! Read it and you will see what I mean.This is the future where climate change has wrecked havoc and a mega powerful corporate state calls the shots. Even the military is privatized and staffed with mercenaries. There is an oppressive police force too in place to keep order in this New Order.I loved this: there are platforms built on top of old cities that are called underzones. That's where the poor live. And that is also where the gangs are.The Safezones (one thinks of gated communities) are for the rich! What makes reading this so much fun is, I can see it happening!This nightmare corporate police state is depicted on a grand scale and in the great sci-fi adventure mode. Yet, the style is Mr. Kane's own. This isn't just a run of the mill-futuristic action adventure yarn; there is a political statement here that is cleverly stated through the author's excellent writing.It's fast paced, the characters are fully developed and believable. I am eagerly awaiting the rest in the series. One more thing, in my opinion this would make one great film!
So, embark on a new epic journey today and grab your copy of
Rising Storm.
*I want to "Thank" Ian for being my "Holiday Read & Guest Author" and wish him MUCH "Success" with his New Book, and
look forward to more in this Series of "Fading Empires"*
So to my Friends and Readers, go grab a copy Today!
"Hope you ALL have a wonderful Thanksgiving!"
God Bless Everyone, and thanks for the "VISIT"
Author, Catherine Townsend-Lyon 🙂