Hello and Welcome Recovery Friends,
Last night was my "Night To Shine" as the recovery *Guest Speaker* on The Hot Topic of Expansion of Gambling, Addiction, Casino's, and growing State Lotteries in our communities on:
http://www.tweetchat.com/Addictionchat !!
.
A Fabulous time was had by all our attendees, great questions & discussions, as I shared Facts and Stats on the growing gambling problems from these expanded, "SO-CALLED PROFIT Sharing Lottery games, video poker and slot video machines. Our State's say the MONEY is to help FUND our Schools and Parks. WHAT?????
I think we all know that sure isn't happening as more of our schools budgets are cut, sports and music cut, and many schools are out right closing. SO, WHERE THE HELL IS MONEY GOING FROM OUR STATE'S LOTTERY PROFITS?
.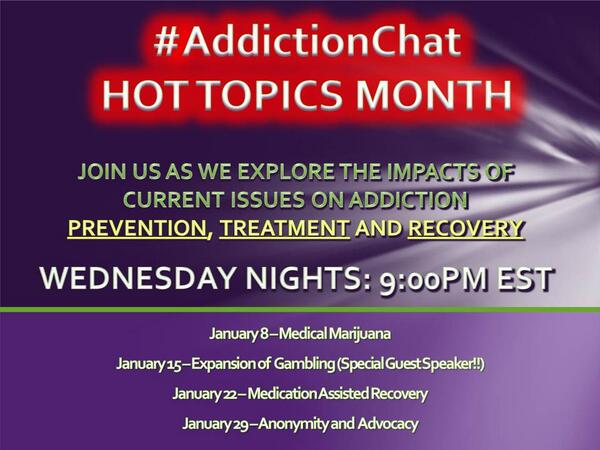 .
A really good informational website to visit to get some of those ANSWERS? The Folks, and Founder, "Les Bernal" of "Stop Predatory Gambling are holding our *Law-Makers, Government, and ALL STATE LOTTERIES & Washington, D.C. ACCOUNTABLE by exposing the REAL TRUTH! How all these Indian Casino's popping up all over our communities, and the TRUTH of where all the $$$$$ is really going. WITH SWEEPING CUTS FOR Addicted Gambling Treatment and Mental Health programs,…….I ASK AGAIN,….WHERE IS THE $$$$$ GOING?
Please Visit: http://StopPredatoryGambling.org  for the answers to all these questions and MORE!
Become a member, donate, get involved, and SHARE their work to help curb "Predatory Expansion of Casino's" by our kids SCHOOLS, OUR PLACES OF WORSHIP, AND OUR HOMES! Predatory is not a fanatic cause, Nope,….They are making sure the public has AWARENESS to many of the negative IMPACTS these places have in our communities. Higher homelessness, more drug, alcohol, and gambling addicts. These places are making PROFITS OFF THE BACKS of the WEAK and ADDICTED. I KNOW, I AM a recovering addicted compulsive gambler for 7 years on, Jan 29th 2014!! And as a person in recovery, it makes it very difficult for us to STAY IN RECOVERY when you have lottery shops all over town with 6 video poker/slot style machines on every corner.
I don't have ill will, or bad feelings toward people who can GAMBLE normally, for the fun and entertainment value of it, nor do I think gambling should be banned, but I do feel strongly that PEOPLE DESERVE THE TRUTH about those who ARE or DO become addicted. State & Government need to be aware, and they NEED to tell the TRUTH of the FACTS and Percentages of Profits, Budgets, and STATS of those who do become addicted.
.

So last night, we talked about all of it on Twitter's #Addictionchat! We have a New Topic each week. So if you're in recovery, work in the addiction & recovery field, or just want to be aware of how ADDICTION impacts your community, come JOIN US! ALL ARE WELCOME and We'd love to see you there!
.
God Bless Everyone,
Author, Catherine Townsend-Lyon